Aftermarket exhausts are a commonly discussed topic.
For a stock turbo:
-There's no point in getting an aftermarket exhaust manifold for a stock turbo. It's not a restriction for a stock turbo.
-The real restriction is the downpipe. However, it varies between the 180FWD, 180Q and 225Q models. A downpipe for a 180FWD is the same as for a MkIV VW (Golf GTI/Jetta 1.8T); therefore, a quality 3" downpipe can be bought off eBay for just over $100. For the 180Q, there is currently no aftermarket downpipe (as of 2/2/08), however some are supposed to be in the works. 42 Draft Designs makes a 3" downpipe for the 225Q that costs around $600. This pipe will NOT fit a 180Q because the 225Q uses a different turbo and manifold and therefore requires a different downpipe design.
-The stock catalytic converter isn't very restrictive either. It's a pretty wide unit (4.5" wide or so) so if you want to run a cat, have a shop grind the ends of the cat so that the openings are 3" and just weld that up.
-There's many options for catbacks. The cheapest for Quattros seems to be the Blue Flame (i.e. Forge)catback. There's other options such as Borla, Remus, Milltek etc. A 180Q can be converted to dual exhausts easily with a new catback, however replacing the stock 180Q catback with a 225Q's won't make any performance gains. On the FWD, the spare tire compartment sits in the way of where a muffler would on the Quattros, therefore there is no non-restrictive FWD dual exhaust solution. Remus makes a dual exhaust, it's $1600, and Milltek makes one that's $1000. Neither of them flow well. Just take a look at the Milltek: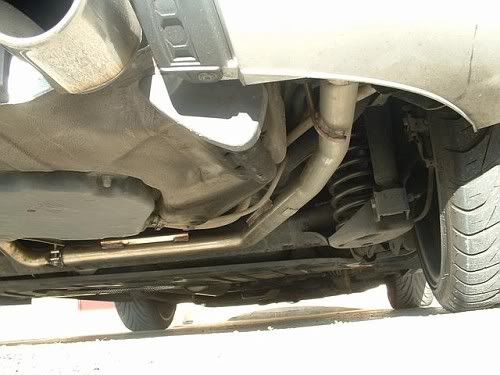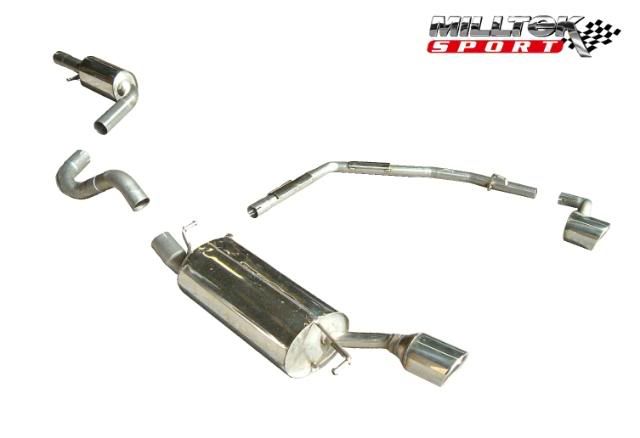 -Sizing: downpipes should be 3". For the catback, there's a lot of debate between 3" or 2.5". Personally, I would run a 2.5" if sticking with a stock turbo since 3" is rather loud.
-Custom systems: if you want a downpipe for a 180Q, for the moment you'll have to go to an exhaust shop and get one fabricated. You could get a whole exhaust fabricated too, or if you have the skills make one yourself.
This FWD exhaust's by Steve Larson (steve05@wi.rr.com) he can make you one too if you contact him.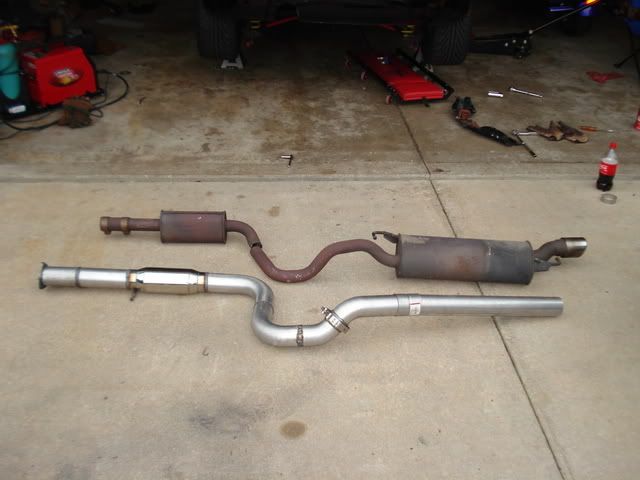 -Excessive vibration: sometimes the downpipe will rub the heatshield when the engine moves under high torque. This can be solved by 1. bending the heatshield and 2. replacing the sloppy, soft dogbone mount bushings. The mount is what influences how much the engine moves under acceleration; a stiffer one will keep it from moving and therefore keep the downpipe from rubbing. This greatly reduces wheelhop and improves shift feel. I ran the Energy Suspension bushings but the vibration was too annoying after a while and I removed them. It made an incredible difference in drivetrain feel, but simply too much noise for me, some people don't mind though.
I might go with a softer set of bushings.
This post
lists durometer (hardness) ratings of different bushings.